Finance Globe
U.S. financial and economic topics from several finance writers.
4 minutes reading time
(726 words)
What to Look for in a Hotel Credit Card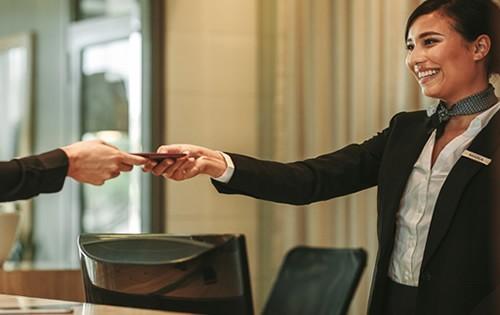 Most major hotel chains offer a co-branded credit card that allow you to earn points that you can use toward hotel stays. Frequent travelers can benefit from having a hotel credit card. Depending on the card you choose, you may be able to earn rewards on all your credit card purchases, not just your hotel purchases. Take a look at multiple hotel credit cards and compare them to decide which hotel credit card would best suit you.
The signup bonus
Many hotel rewards credit cards offer a signup bonus that you can earn by spending a certain amount of money in the first few months of opening your account. For example, you may have to spend $1,000 in the first three months of opening your new hotel credit card to earn 10,000 hotel rewards points. Make sure your spending habits and payment ability allow you to comfortably meet the spending requirement for earning the signup bonus. If you have to go into debt to earn a spending bonus, it's not worth it.
The annual fee
Hotel rewards cards have different annual fees. When you compare credit cards you'll notice a correlation between the annual fee and the other credit card perks like signup bonus, ongoing rewards, and credit card benefits. For example, a credit card with no annual fee will often have the lowest signup bonus and pay out lower rewards on purchases. You don't have to avoid an annual fee completely. However, you should consider whether the credit card perks will be enough to offset and outearn any fee you pay on the credit card.
Ongoing rewards
Some hotel rewards credit cards only pay rewards on hotel stays while others pay rewards on all your purchases, but a higher amount of rewards on hotel says. Choose a card based on how you typically spend. A card that pays rewards on all your purchases will allow you to earn a higher amount of rewards that you can use on hotel stays.
When you're examining the rewards program, pay attention to how you redeem your rewards - as a statement credit or to book your hotel room - whether your rewards expire, and the number of rewards you're allowed to earn. Some hotel credit cards also allow you to earn complimentary upgrades and free hotel stays as you earn more rewards on your credit card.
Promotional interest rate
Normally, it's ideal to pay the full balance on a rewards credit card so you don't negate your rewards by paying interest. A credit card with a zero percent introductory rate on purchases gives you the opportunity to carry a balance on your credit card without having to pay any interest. If you take advantage of a promotional interest rate, pay off the balance before the promotional period ends. At the completion of the promotional period, you'll begin paying monthly interest on any balance that remains on your card.
Some hotel credit cards may also offer a promotional interest rate on balance transfers, but here's why you may not want to use the offer. It's best to minimize fees on rewards credit cards so you get the full benefit of earning rewards. Not only that, your balance transfer won't earn you any rewards and it will take up available credit that you could use for making purchases that do earn rewards.
The hotel brand
Of course, when you're looking at hotel rewards credit cards, you should choose one from a hotel brand that you enjoy staying at. If you plan to use your points while traveling, check to be sure the hotel has properties in the cities that you're interested in traveling to. You can also check to see if you can transfer your rewards points between loyalty programs. You may lose some points when you're converting to other programs, but it gives you the flexibility to use your rewards in other places.
If you prefer not to be tied to a particular hotel chain, you may benefit from a travel rewards credit card that pays higher rewards on travel purchases. You can typically redeem your rewards toward travel purchases, including hotel stays. This allows you to offset your hotel stays without being tied to a specific hotel brand. To choose the best card, make sure you look at the signup bonus, ongoing rewards, promotional rate, and other credit card perks just as you would with a hotel credit card.
Comments
1

Frank
on Wednesday, 26 September 2018 14:24
There is an incredible American Express Marriott/SPG credit card deal going on. I would highly recommend looking into this card if you want a hotel credit card.
There is an incredible American Express Marriott/SPG credit card deal going on. I would highly recommend looking into this card if you want a hotel credit card.
By accepting you will be accessing a service provided by a third-party external to https://www.financeglobe.com/