Credit Cards - Apply or Research
Below, you can browse our wide selection of credit card offers from an exceptionally diverse library of card types and brands-- in addition to listings categorized by brand name and type, you can also browse online offers organized by appropriate credit score, credit cards featuring special deals for students, a rundown of recommended business credit cards, and a number of additional factors that can be used to narrow down the right card for you or your business.
Looking for cards based on rewards systems, cash back offers, or similar bonus programs? Our card library of 44 cards features custom tailored lists that will allow you to search based on these factors as well. Our credit card forums allow you to engage in any additional discussions you might have, while our aggregation of reviews for the cards featured in our library will allow you to make a decision that's as informed as possible.
The most comprehensive credit card database on the internet.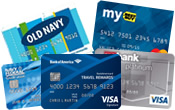 Feel the power and freedom of a database that is not comprised of a select group of banks, but a program that openly presents credit card offers available to you. Each credit card contains a comprehensive analysis to include rates, a plain English explanation, user reviews, and other user's application results. It's all the tools we could think of to help you get approved for a card fit for your needs and lifestyle.
Other Credit Card Resources
---
Not looking to apply for a new card? Not a problem - our library of card offers features up to date profiles on each of the cards listed, with details including regular APR rates, the number of positive consumer reviews, annual fees and conditions, and more. Be sure to take a look at our rotating selection of featured credit cards as well-- we regularly update our featured listings with new deals and rewards programs for you to take advantage of.