Jasper Cash Back Mastercard®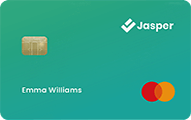 Up to 6% cash back by referring friends!
Start with 1% and get an extra 0.5% for a full year for every friend you bring on board.
Cash back not limited to certain categories, earn on almost all everyday purchases.
Receive cash back automatically every month as a statement credit after three on time payments.
Earn cash back as long as your account is in good standing.
Your cash back maximum varies based on your credit limit.
See Jasper's terms and fees.
Issued by WebBank, Member FDIC
The information provided for Jasper Cash Back Mastercard® is believed to be accurate at the time of evaluation (June 8, 2021). We strongly advise visitors to review the fees, terms, and conditions to verify accuracy of the information posted prior to applying for the product. FinanceGlobe is not affiliated with Jasper and the information we post about Jasper is not updated.
| Credit Target | Type | Annual Fee | BT Intro APR | Purchase Intro APR | Regular APR | Rewards |
| --- | --- | --- | --- | --- | --- | --- |
| Excellent Credit, Fair Credit, Good Credit | Personal | $0 | N/A* | N/A* | 15.49%-24.99% (Variable) | Cash Back |
This Credit Card Is Currently Not Available
Important Notice: Jasper Cash Back Mastercard® from WebBank is no longer available or maintained at Finance Globe. We are displaying limited archived data. Some information may be incomplete, inaccurate or missing. We apologize for the inconvenience. Here are some of the most popular cards on Finance Globe:

Jasper Cash Back Mastercard® Quick Summary:The following information was written by Finance Globe, and is not supplied by WebBank.

This card is intended for consumers, or "personal use" with a nearly perfect credit history. Rates may vary among applicants, however the lowest standard APR is 15.49%* (Variable)* and may be as high as 24.99%* (Variable)*, depending on your credit worthiness*.

Important Rates:

There is not an introductory APR for this card, so the lowest or standard rate may apply immediately or after the grace period for eligible purchases. There is no annual fee for this card.*

Rewards:

This card is a cash back card, where you can expect cash rewards for your purchases.

Credit Record Needed:

Based on the FICO score recommendation, applicants should have a great credit record. A FICO credit score of 670 to 795 is recommended for a higher chance of approval, but this is not required. There are a number of other factors that this issuer may also consider when making decisions for approval. While your FICO score is usually a very important factor, you may want to consider other areas that may affect a decision for approval. For example, your debt to income ratio, recent credit inquiries, 30+ day delinquencies, or current credit accounts nearing the maximum amount may affect a credit decision.

FICO scores/credit scores are used to represent the creditworthiness of a person and may be one indicator to the credit type you are eligible for. However, a credit score alone does not guarantee or imply approval for any WebBank product.

Other Basics:

This card contains the brand of Mastercard, where acceptance is global. Most businesses that accept credit cards will accept Mastercard as a form of payment (subject to available credit).

Other Remarks:
Earn up to 6% cash back by referring friends!
Start with 1% and get an extra 0.5% for a full year for every friend you bring on board.
Cash back not limited to certain categories, earn on almost all everyday purchases.
Receive cash back automatically every month as a statement credit after three on time payments.
Earn cash back as long as your account is in good standing.
Unique auto payment options that help you build and maintain your credit score.
Receive cash back automatically every month as a statement credit after three on time payments.
Earn cash back as long as your account is in good standing. If your account is past due, cash back will be locked.
Your cash back maximum varies based on your credit limit.
Cash back not limited to certain categories, earn on almost all everyday purchases.
See Jasper's terms and fees.
Issued by WebBank, Member FDIC
Our Editor's Commentary:
Young working professionals often struggle to find a credit card that matches their wants and needs. And even if they do, they may find that it's a secured credit card, which requires a security deposit
Fortunately, there are a handful of high-quality offers out there, with the Jasper Mastercard at the top of the list.
Jasper Mastercard Benefits
There is no shortage of benefits associated with the Jasper Mastercard, but these are among the most powerful:
Earn cash back on almost all everyday purchases, not just a few categories.
Credit limit up to $5,000: This isn't something you see very often in a credit card for individuals with limited credit.
No security deposit: As an unsecured credit card, there's no security deposit required. Add this to no annual fee and you have a credit card you can comfortably rely on as you embark on your professional journey.
Credit reporting: The company reports account information to both Equifax and TransUnion. While Experian is left out, two out of three is better than none. This is essential to building your credit history and score.
Advance approval: With this, you can receive approval up to 60 days before you begin your job. This gives you the opportunity to get a jump on your credit, especially if you're not expected to start work right away.
Are There Any Drawbacks?
Although there are loads of benefits associated with the Jasper Mastercard, there are some potential drawbacks to be aware of. These include:
Two to three business days for approval
Mobile only account access (you can't access on a desktop computer)

Even though these drawbacks aren't ideal, they're not likely to be a dealbreaker. When you compare the pros and cons of the Jasper Mastercard, you may soon find that it's the perfect choice as you kick off your career.
Approval Rate:
Currently, we have no applicant results in our system. You can be the first one to help by
submitting
your application results to assist other applicants before they apply for this card.
There have been no approvals in our internal system that we can calculate for this card. This could be due to lack of time that this card has been listed at Finance Globe or from other various factors. As we gain more information about the approval rates, we will update them here. Furthermore, if your FICO score is close to or higher than 715, then your chance of approval may be even greater.
Approval Time:
Approval time for this offer is not listed. You should expect a final credit decision within a couple of weeks, but normally much sooner.
Community Opinion:
There are no reviews. If you have experience, you can
write one now
.
It's fast and easy to compare card offers by the criteria you require. That way you get the best card for your needs. Find more
credit cards
.