Finance Globe
U.S. financial and economic topics from several finance writers.
4 minutes reading time
(864 words)
Family Vacations on a Budget - Go Camping Part 2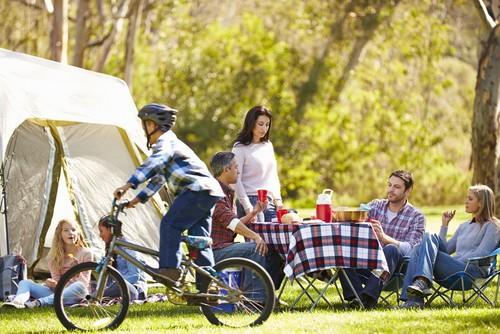 This article is the second in a two-part series. Camping is a great alternative for the budget-conscious family vacation! Other benefits to camping compared to traditional flying/lodging/dining vacations:

You travel with your own stuff, instead of renting a bed someone else slept in.
There's nothing worse on vacation than reserving high-priced lodging because it seems nice on the website, only to get there and find that it doesn't look or smell clean - if you're travelling in the peak season in a tourist hot spot, you may just be out of luck in finding something better nearby. By camping, you'll never have to worry about bedbugs or whether the place is as clean as it should be. Camping may expose you to a little dirt, but that's usually better than the other option.

Camping is flexible.
For other types of vacations, you'll need to coordinate the flight, the lodging, the car rental and hope to get a good price for all of it - and even at sale prices, it's often not worth going for short trips because it still costs so much to get there.
It's very easy to look online or make a phone call to see if there's a campsite available at the last minute, whether it's for a night, a weekend, or a week or longer. Instead of one big vacation a year, by camping you can have a big vacation, plus a few shorter weekend or holiday trips for very little additional cost.

Camping may offer more alone time for couples
Family vacations don't give Mom and Dad much privacy if you're sharing a hotel room with the kids. But if you have older kids or teenagers, they might prefer to sleep in their own tent. Instead of a monster family tent, it may be a good idea to have a couple of smaller tents so the kids can stay up late, read, play games, and do their own thing, and the parents can still get their much needed rest and relaxation.

Getting there can be half the fun (almost).
Some people don't like road trips - yes, it's a long time to be in the car and sometimes hardly worth it for one person going a long distance. But it can take nearly a whole day to fly anyway - getting to the airport early to wait around, getting through the security line, sitting through the flight, getting to the baggage claim, renting a car, and then finding your hotel. And if you have small children, it can really be hectic at the airport; you may be juggling your kids and your baggage, and dealing with the timing of hunger and rest breaks that don't work conveniently with flight times.

By driving to a campsite, you're the captain and on your own schedule. Your vacation can start the minute you get in the car, instead of the minute you check into the hotel room at your destination. Consider stopping someplace fun to break up a long drive, and have a picnic or take a little hike. It's your vacation, it should be fun and relaxing.


If you're just starting out, you'll need:

Knowledge
If you've never camped, or haven't camped since you were a kid, research gear, camping techniques, and health/safety concerns before you take your family into the wilderness. Once you get the knowledge and gear you need, do a test run in the backyard for a weekend before you go on your trip - the kids will probably enjoy the backyard nearly as much as the real vacation.

Camping Gear
The cost for a tent, sleeping bags, sleeping pads, camp stove, backpack, and other camping gear can vary widely depending on how lightweight and high-tech you want to go with your gear. Consider lightweight gear if you plan on backpacking to your camp site, but gear weight is not as important if you can drive to your site. If you want to do both, consider going for the lightweight stuff so you have that flexibility.

Before spending a lot of money, consider asking friends or family members who camp to let you borrow their gear until you figure out if camping is really for you and your family. Also, keep in mind that many budget-minded campers use what they have around the house before they invest in camping gear. If you'll be driving to the campsite, you don't have to have a sleeping bag, camping cookware, etc.; you can just use blankets and pillows from your own bed and the items that you normally use in your kitchen.

If you and your family really enjoy camping, then you'll probably get the bug and want to aquire the cool gear that makes it more fun, more convenient, and more comfortable. But try it out a couple times first before spending the money on it.

Experience
Start your camping experience in mild weather and not too far from civilization, and get a little more adventurous when you and your family feel comfortable with it.

Done right, it can be a great way for family members of all ages to take a break without spending a lot of money.
Comments
No comments made yet. Be the first to submit a comment
By accepting you will be accessing a service provided by a third-party external to https://www.financeglobe.com/