Finance Globe
U.S. financial and economic topics from several finance writers.
3 minutes reading time
(648 words)
Family Vacations on a Budget - Go Camping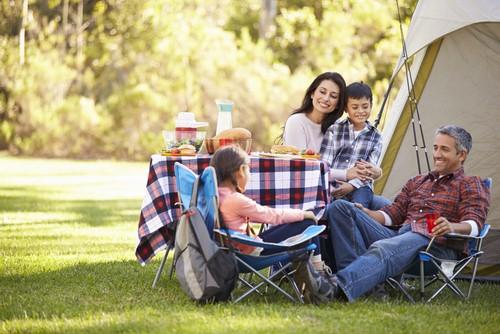 Vacations are time to bond, have fun with your family and friends, see new sites, and take a breather from real life. But the financial woes of the past couple of years have really got consumers thinking about more cost effective ways to get the same result in various aspects of their lives, and the family vacation is one area where we can easily spend a lot of money if we're not careful.

The majority of expenses for the family vacation are travelling to the destination, lodging, entertainment and dining. Airfare for each member of your family tends to be a huge chunk of the vacation expenses to begin with. Add to that the cost of the hotel, individual meals, tickets for the fun activities and it's no wonder that budgeting for the family vacation can be difficult for many households.

But there is a low-cost solution to the family vacation. Have you considered taking the family camping? Instead of flying away to some exotic destination, consider packing up the gear, the family, and even the dog to visit one of our nation's natural resources and enjoy the outdoors.

By camping, you'll save on:

Airfare and Car Rental
Airfare is a big part of vacation expenses. Multiply the cost of airfare by the number of family members and you can easily end up with a couple thousand dollars in just getting to the destination. And then you'll spend even more on transportation if you plan to rent a car when you get to your vacation spot.

But by camping you can drive to your destination, and five people plus gear can get there just about as cheaply as one can. There are beautiful areas all across the U.S. and probably an array of camping choices within a day's drive of where you live.

Lodging
Check into the state parks in the areas you like to vacation in. Many are located along the most beautiful beaches, lakes, and mountain areas, and typically cost about $15 to $30 a night for a rustic tent site with access to centrally-located rest areas, showers, laundry facilities, and playgrounds. And if you backpack in to one of America's national forests, you may be able to camp for free.

Being conservative, it's typically going to cost about $100 or more a night to stay in a decent hotel at the beach. By camping, you can still have the beach - or the lake or mountains - and have several hundred dollars extra in your pocket by the end of the stay.

Entertainment
Another great bonus to camping is that there's usually plenty of free entertainment built right into to the setting of where you're staying. Take a nature hike. Go swimming or fishing. Cook on the campfire. Play volleyball or throw a frisbee. Take a nap or read a book in a hammock.

If you stay at a hotel, the only entertainment is the television (and maybe a pool), or you'll probably have to go out and spend some money to be entertained.

Dining
Meals are another big expense when on vacation, especially when you're staying in a room without a kitchen. Vacationers can save a lot by making their own meals, but it's just not fun to eat a cold sandwich or to make a mess of a kitchen while on vacation in a hotel.

There's something about camp cooking - it's always fun. And food just tastes better when it's prepared outdoors, whether you are making a cold sandwich, roasting hotdogs on a fire, or grilling a steak. The only time it's not really fun is when it's raining, but that can be an excuse to go out to eat at least once on your camping trip. Or just eat cold sandwiches.

For more examples of the benefits of camping and how to get started, check out Part 2 of this article.
Comments
No comments made yet. Be the first to submit a comment
By accepting you will be accessing a service provided by a third-party external to https://www.financeglobe.com/