First Savings MasterCard® Credit Card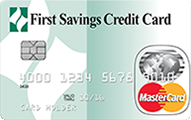 The First Savings Credit Card offers convenience wherever you use your MasterCard® Credit Card to make everyday purchases, to dine out at restaurants or to shop online.
Take advantage of what our card has to offer.
You're in Control of Purchases
No Hidden Fees and No Penalty APR
Fraud Coverage for Lost or Stolen Card
Secure Online Account Access
First Savings Bank is introducing MasterCard® SecureCodeTM, which is a free service designed to enhance your existing First Savings Bank MasterCard® account. It's a private security code which protects you against unauthorized use of your card when you shop online at participating merchants. The SecureCode acts just like a Personal Identification Number (PIN) at the ATM, all you do is enter your private SecureCode during checkout at participating online merchants when prompted by First Savings Bank. Once your identity is confirmed, your purchase is complete.
| Credit Target | Type | Annual Fee | BT Intro APR | Purchase Intro APR | Regular APR | Rewards |
| --- | --- | --- | --- | --- | --- | --- |
| Good Credit, Above Average Credit | Personal | $0* | N/A* | N/A* | 14.90%* - 29.9%* | None |
Similar Credit Card Offer
Blaze Mastercard® Credit Card
Less than perfect credit? Looking to rebuild your credit? You may qualify for a Blaze Mastercard.
Credit limit up to $1,500 - most receive an initial credit limit of $350; some higher.
Once approved, you may get a credit line increase in as little as 6 months by: making on-time payments, staying below your credit limit, and keeping your account in good-standing.
An unsecured credit card with no deposits required!
Set up account and security alerts to stay in-the-know with activity on your account.
Securely manage your account on your time with our new and easy to use mobile app.
Enjoy U.S. based Customer Service!
| Credit Target | Type | Annual Fee | BT Intro APR | Purchase Intro APR | Regular APR | Rewards | Reviews |
| --- | --- | --- | --- | --- | --- | --- | --- |
| Fair Credit, Average Credit | Consumer | $75 | N/A | N/A | 29.9% Fixed | None | 1 |
First PREMIER® Bank Classic Credit Card
YOUR HELPING HAND - Since 1989, First PREMIER Bank has worked to help individuals and families with less-than-perfect credit obtain the credit they need to improve their financial health.*
Looking to build a credit future? We report to the major consumer reporting agencies monthly*
Use available credit for basics like gas and food when you need them
Enjoy peace of mind with free identity theft resolution services (subject to Mastercard guidelines)
US-based customer service that's both professional and personable
Customers can request to be evaluated for a credit limit increase after 12 months
*Build credit by keeping your balance low and paying on time every month.
| Credit Target | Type | Annual Fee | BT Intro APR | Purchase Intro APR | Regular APR | Rewards | Reviews |
| --- | --- | --- | --- | --- | --- | --- | --- |
| Fair Credit, Average Credit | Consumer | See Terms* | N/A | N/A | See Terms* | None | 4 |
Quick Summary:
This Mastercard offer is issued by First Savings Bank. This card is intended for consumers, or "personal use" with a good to perfect credit history. Rates may vary among applicants, however the lowest standard APR is 29.9%* and may be as high as 29.9%* (Variable)*, depending on your credit worthiness*.
Important Rates:
There is not an introductory APR for this card, so the lowest or standard rate may apply immediately or after the grace period for eligible purchases. There is no annual fee for this card.*
Credit Record Needed:
The First Savings MasterCard® Credit Card is designed for those with less than perfect credit. There are a number of factors that this issuer may consider when making decisions for approval.
Other Basics:
This card contains the brand of Mastercard, where acceptance is global. Most businesses that accept credit cards will accept Mastercard as a form of payment (subject to available credit).
Other Remarks:
Applications appear to be available by invitation only at firstsavingscc.com. Company is located in South Dakota. Limited information is available regarding rates and fees.
Approval Rate:
There were
6 people
that reported their status to us after they applied. They provided us with helpful qualification information, including their credit scores, the rates offered to them, household income and more. 83% of those applicants were approved.
The approval rate for this card is average. Furthermore, if your FICO score is close to or higher than , then your chance of approval may be even greater.
Approval Time:
Approval time for this offer is not listed.
Community Opinion:
Based on community reviews, we found that
100% of 4 users recommend this card
.
It's fast and easy to compare card offers by the criteria you require. That way you get the best card for your needs. Find more
credit cards
.
You may also be interested in these offers: