Finance Globe
U.S. financial and economic topics from several finance writers.
3 minutes reading time
(601 words)
Rising Gas Prices: A Credit Card Can Reduce the Pain at the Pump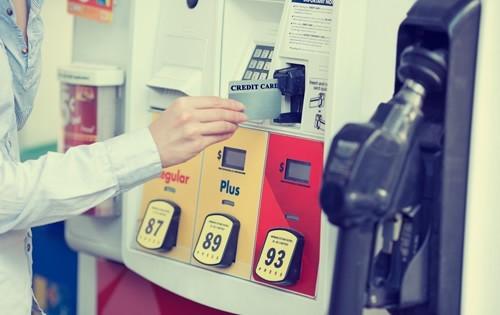 In the past several weeks, you've probably noticed your gas prices creeping higher and higher each time you visit the gas pump. You're especially feeling the pinch if you have an SUV or a vehicle that requires premium gas. Crude oil prices are at the highest level in more than three years, which means increasing gas prices may not slow down any time soon. Choosing the right credit card can help you alleviate some of the pain of rising gas prices – or at least give you some benefit.
Look for a a rewards credit card that pays on more on gas. If you're spending money on gas anyway, you might as well earn some rewards on it. Look for a credit card that pays higher rewards on your gas purchases. If you choose cash back rewards, you can redeem your rewards in the form of a statement credit or as a deposit into your checking account. Or, you might choose to redeem your rewards towards travel purchases.
Use gas purchases to get closer to a signup bonus. Most rewards credit cards these days come with an initial signup bonus. If you spend a certain amount of money in the first months of opening your account, you'll earn a lump-sum of rewards. The silver lining of higher gas prices could be that it helps you meet the spending requirement for a signup bonus much faster since you're spending more money on gas. Signup bonuses are typically paid out in cash back or points (which you may be able to redeem for cash).
Explore beyond oil company co-branded credit cards. You'd think that a credit card affiliated with your favorite gas station would give you the best rewards, but that's not always the case. Gas station credit cards may only discount by a small amount or pay a small amount of rewards that you can use only with that gas station. For more versatility in the gas stations you can choose, look for a generic rewards credit card that pays rewards in multiple categories.
Check out wholesale club or supermarket credit card. You may be able to double up on benefits by getting a discount on your gas and earn rewards on your gas purchases. In some cases, you may have to be a member of the wholesale club to get its branded credit card. You'll have to weigh whether the extra cost of the club membership is worth the savings and rewards you'll earn on gas. In some cases, it may be better to explore other ways to earn rewards on gas purchases.
Don't carry a balance on your credit card unless you have a promotional interest rate. Rising gas prices are tough enough on your wallet. You don't want to negate the benefit of using a rewards credit card by paying interest on your balance. Use your credit card strictly for items you know you can pay off every month and avoid racking up big balances that you can't afford to repay. If you have a 0% promotional rate on your balance, it's not necessary to pay in full each month, but be sure to pay off your full balance before the promotional period ends.
Beyond using a credit card to offset rising gas prices, you can change your driving habits to help lower gas costs. This may mean changing your daily route so you include gas stations with lower prices, combining errands and trips, and taking fewer tips overall. Staying on top of car maintenance and repairs will improve fuel efficiency and allow you to save on gas overall.
Comments
1

Frank
on Friday, 29 June 2018 11:15
Gas credit cards should have at a minimum of 5% cash back/rebate. I have even seen some for 10% back.
Gas credit cards should have at a minimum of 5% cash back/rebate. I have even seen some for 10% back.
By accepting you will be accessing a service provided by a third-party external to https://www.financeglobe.com/