Finance Globe
U.S. financial and economic topics from several finance writers.
3 minutes reading time
(505 words)
Landscaping for Less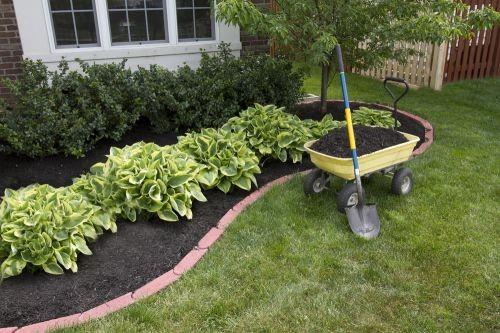 It's planting time across many parts of the country, and you may be looking at your yard with big plans for lush gardens and pretty flowers. But don't let your annual landscaping bill get the best of you, save a few bucks here and there with these cost-cutting tips.

Buy smaller plants
Starting with small plants saves money - and you'll also have a smaller hole to dig so planting them will be easier, too. Annuals only live for one growing season so they grow pretty quickly and even the smallest plants will fill in by mid-season. Perennials grow slowly until they get established and generally take a few years to reach their full size, but consider using cheaper annuals to fill in the extra bed space in the meantime.

Buy larger plants that you can divide
When buying perennials, compare the size of the plant and its root system, not the size of the pots. The plant in the gallon size will cost more than the one in the quart size, but you'll get more plants for less if you can divide the larger one into two, three, or even four separate plants.

Grow your plants from seed
Sowing seeds either in flats or directly into the garden can really pay off if you want a garden full of flowers. Annuals you grow from seed will rival any you can find at the garden center. Perennials grown from seed usually won't flower the first year - but making that investment (of time) will be well worth it if you're planning a beautiful garden for years to come.

Welcome volunteer plants
You may recognize new plants popping up from the seeds dropped by last year's flowers. These free plants can be left where they are or transplanted to a better spot. You can also encourage volunteers by scattering seeds as flowers dry up. Or simply save them for planting next year.

Trade plants with friends
If you already have perennials in your garden that have been growing a few seasons, it's likely that they are ready to be divided. Talk to your friends about sharing what you have, and they may offer up what they have an abundance of. Volunteer annuals are also a good candidate for trading.

And finally, use what your property provides
It's somewhat amusing that droves of consumers head to the garden center every year to buy dirt and sticks, especially when they already have dirt and sticks in their own yard. Consider using what you already have before buying it.

You may be able to cut your own stakes from tree trimmings, use fallen pine needles for mulch, and make your own compost from household scraps. Large rocks dug up while planting can add interest to your landscaping. Taking down a large tree can provide materials to build benches and trellises - and still leave enough wood for nighttime bonfires in the backyard. Putting those natural resources to use can make your yard charmingly unique while saving money on landscaping.
Comments
No comments made yet. Be the first to submit a comment
By accepting you will be accessing a service provided by a third-party external to https://www.financeglobe.com/