Optima® Platinum Card®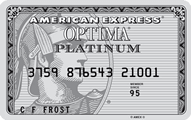 Pay Less, Get More
The Optima Platinum Card offers some of American Express' most extraordinary benefits. The Card has no annual fee, and comes with a competitive 0.00% APR for the first 6 months of cardmembership, and then prime plus 6.00%. The Card has a 25 day grace period, and the option to pay over time. Additional Cards are fee-free, so you can share virtually all the benefits and services with your friends or family members.

Enroll in Optima Platinum Card's Membership Rewards Express (SM) program
Why wait for the rewards you want? You can earn one point for virtually every dollar you spend on your Card. Which means you can get the rewards you want right now - from an incredible selection of clothing, electronics, dining experiences, online music, travel, and more.1

Transfer Balances Fee-Free
Transfer balances from your higher-rate MasterCard®, Discover®, and Visa® cards to your American Express® Card account -with no transaction fee! Then enjoy the low APR: Fixed rate of 8.90% for life of balance (until the balance is completely paid off), on BT requests submitted with this application.

Access Your Account Online
You can view up-to-date billing information online, including transactions, charges, and payments.

Dedicated Customer Service
American Express is here to help you around the clock, with the kind of Customer Service that keeps Card members loyal for a lifetime. For immediate service, call the phone number on the back of your Card.

Your Year End Summary: Now Available Online
Your new Online Year End Summary of Charges gives you access to important information 24 hours a day, seven days a week. Flexible features make organizing your expenses a snap - download the Summary and print it out; sort by date, merchant name, or charge amount; review charges made within a category, such as Travel and Restaurant. Your Year End Summary is an indispensable tool for preparing taxes and budgeting. You may also receive a paper Year End Summary in the mail by calling the number on the back of your Card.
| Credit Target | Type | Annual Fee | BT Intro APR | Purchase Intro APR | Regular APR | Rewards |
| --- | --- | --- | --- | --- | --- | --- |
| Excellent Credit | Personal | $0* | N/A* | 0.00% for 6 months | 9.25%* | Flexible Options |
This Credit Card Is Currently Not Available
Important Notice: Optima® Platinum Card® from American Express is no longer available or maintained at Finance Globe. We are displaying limited archived data. Some information may be incomplete, inaccurate or missing. We apologize for the inconvenience. Here are some of the most popular cards on Finance Globe:

Optima® Platinum Card® Quick Summary:

This rewards card with flexible options is issued by American Express. This card is intended for consumers, or "personal use" with a nearly perfect credit history. Rates may vary among applicants, however the lowest standard APR is 9.25%* (Variable)*.

Important Rates:

There is a purchase introductory APR of 0.00% for 6 months*. Be cautious that some card issuers may charge higher rates and fees for cash advances.

There is no annual fee for this card.*

Rewards:

This is a flexible options rewards card. You should be able to choose different reward types, such as travel, points, or other options. This type of card adjusts to the changing needs of the cardholder.

Credit Record Needed:

Based on the FICO score recommendation, applicants should have a great or nearly perfect credit record. A FICO credit score of 766 is recommended for a higher chance of approval, but this is not required. There are a number of other factors that this issuer may also consider when making decisions for approval. While your FICO score is usually a very important factor, you may want to consider other areas that may affect a decision for approval. For example, your debt to income ratio, recent credit inquiries, 30+ day delinquencies, or current credit accounts nearing the maximum amount may affect a credit decision.

FICO scores/credit scores are used to represent the creditworthiness of a person and may be one indicator to the credit type you are eligible for. However, a credit score alone does not guarantee or imply approval for any American Express product.

Other Basics:

The grace period listed for the Optima® Platinum Card® is at least 25 days*. So interest charges will not be applied for new purchases during this time if balance is paid in full by the due date. Be aware that some issuers will begin charging interest on cash advances and balance transfers on the transaction date.

American Express acceptance among businesses is moderate, but global. You should not have a difficult time finding businesses that will accept this card as a form of payment.



Other Remarks:

Balance Transfer APR: 8.90% (0.0244% DPR) for the life of the balance for balance transfer requests submitted on the application. Then the standard Purchase APR will apply.

Approval Rate:

Currently, we have no applicant results in our system. You can be the first one to help by

submitting

your application results to assist other applicants before they apply for this card.

There have been no approvals in our internal system that we can calculate for this card. This could be due to lack of time that this card has been listed at Finance Globe or from other various factors. As we gain more information about the approval rates, we will update them here. Furthermore, if your FICO score is close to or higher than 766, then your chance of approval may be even greater.

Approval Time:

Approval time for this offer is not listed. You should expect a final credit decision within a couple of weeks, but normally much sooner.

Community Opinion:

Based on community reviews, we found that

100% of 3 users recommend this card

.
It's fast and easy to compare card offers by the criteria you require. That way you get the best card for your needs. Find more
credit cards
.
You may also be interested in these offers: