JCPenney Credit Card®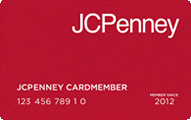 Earn 2X the rewards points with a JCPenney Credit Card - receive 1 point per dollar spent on qualifying purchases*
15% OFF* select apparel, shoes, accessories, fine jewelry, salon products, furniture & mattresses, home, and in-home custom design; or save 5% on select electrics/electronics, Modern Bride Design Your Dream Ring, smart watches & Tempur-Pedic
Enjoy exclusive offers throughout the year with 100+ special savings days where JCPenney Credit Card members save more.
| Credit Target | Type | Annual Fee | BT Intro APR | Purchase Intro APR | Regular APR | Rewards |
| --- | --- | --- | --- | --- | --- | --- |
| Fair Credit, Above Average Credit | Personal | $0* | N/A* | N/A* | 25.99%* | Store Specific |
This Credit Card Is Currently Not Available
Important Notice: JCPenney Credit Card® from Synchrony Bank is no longer available or maintained at Finance Globe. We are displaying limited archived data. Some information may be incomplete, inaccurate or missing. We apologize for the inconvenience. Here are some of the most popular cards on Finance Globe:

JCPenney Credit Card® Quick Summary:

This is a Other rewards card, issued by Synchrony Bank. Store reward cards normally offer rebates on specific brand merchandise or purchases. This card is intended for consumers, or "personal use" with a fair credit history. The APR is 25.99%* Fixed.

Important Rates:

There is not an introductory APR for this card, so the lowest or standard rate may apply immediately or after the grace period for eligible purchases. There is no annual fee for this card.*

Rewards:

This card is a store or brand specific rewards card, where you can expect rewards, gift certificates, or even rebates for your purchases, according to the offer details.

Credit Record Needed:

Based on the FICO score recommendation, applicants should have a recently clean credit record, with no recent negative marks on their report. However the card issuer may expect limited discrepancies. A FICO credit score of 634 is recommended for a higher chance of approval, but this is not required. There are a number of other factors that this issuer may also consider when making decisions for approval. While your FICO score is usually a very important factor, you may want to consider other areas that may affect a decision for approval. For example, your debt to income ratio, recent credit inquiries, 30+ day delinquencies, or current credit accounts nearing the maximum amount may affect a credit decision.

FICO scores/credit scores are used to represent the creditworthiness of a person and may be one indicator to the credit type you are eligible for. However, a credit score alone does not guarantee or imply approval for any Synchrony Bank product.

Other Basics:

The grace period listed for the JCPenney Credit Card® is at least 23 days*. So interest charges will not be applied for new purchases during this time if balance is paid in full by the due date. Be aware that some issuers will begin charging interest on cash advances and balance transfers on the transaction date.



Approval Rate:
There were 82 people that reported their status to us after they applied. They provided us with helpful qualification information, including their credit scores, the rates offered to them, household income and more. 77% of those applicants were approved.

This card has a very poor approval or acceptance rate. This could be due to the fact that applicants changed their decision after wanting a traditional credit card such as a Visa, Mastercard, Discover Card or American Express card. Furthermore, if your FICO score is close to or higher than 634, then your chance of approval may be even greater.

Approval Time:
Great news for applicants that do not want to wait on an application status. This PREMIER Bankcard card offer will give you a response in seconds. Remember, this may not be true in all cases, where application information may not be complete, questionable or for other reasons. When applying on-line, the system will normally show your approval status shortly after submitting your application. Credit cards normally take 1 or 2 weeks to arrive after your application is approved.

Community Opinion:
Based on community reviews, we found that 85% of 59 users recommend this card.
It's fast and easy to compare card offers by the criteria you require. That way you get the best card for your needs. Find more
credit cards
.