Important Notice:This offer may still be available, however Finance Globe is no longer maintaining information about this card. Here are some popular cards on Finance Globe:
Sorry, but this card is no longer available on Finance Globe, and information about this card may be inaccurate.
Please view similar credit cards below.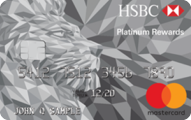 Not Active
Compare
HSBC Platinum MasterCard® with Rewards credit card
Earn $100 Cash Back after you spend $500 or more in new, net purchases in your first three months from credit card account opening.
0% Introductory APR on credit card purchases and balance transfers for the first 12 months from Account opening. After that, a variable APR of 13.99%, 17.99% or 23.99%, will apply.
No annual fee and no foreign transaction fees.
Earn unlimited Rewards Program Points with every purchase that never expire and redeem for cash back, popular gift cards, merchandise, or flights on most major airlines.
Make purchases the way you want — mobile payment enabled supporting Android Pay™, Apple Pay™ and Samsung Pay™.
Fraud coverage if your card is ever lost or stolen.
Use online banking to access your account, even from your smartphone, with our mobile app.
Terms Apply.
| Credit Target | Type | Annual Fee | BT Intro APR | Purchase Intro APR | Regular APR | Rewards | Reviews |
| --- | --- | --- | --- | --- | --- | --- | --- |
| Excellent Credit, Good Credit | Consumer | $0 | 0% for 12 months | 0% for 12 months | Variable APR of 13.99%, 17.99% or 23.99% | Cash Back | Be the first to write one |