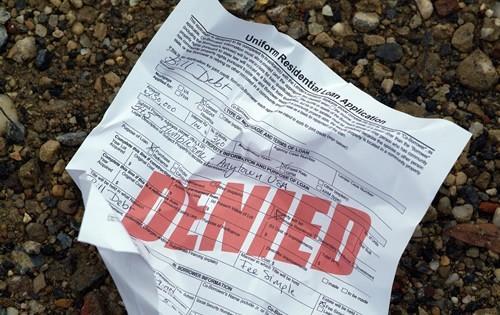 Once you decide to purchase a home, you're faced with a variety of questions, tasks, and responsibilities. One of the most important steps is applying for a mortgage.
While you hope that everything works out, there may be a major concern on your mind: a denial.
There are things you can do to tilt the scales in your favor, such as saving up a down payment of at least 20 percent. Unfortunately, there is no guarantee that you'll qualify for a mortgage.
Here are several of the most common reasons for a mortgage application denial:
•    Lack of income: In short, your lender wants to know that you make enough money to comfortably cover your mortgage payment. This is why your debt-to-income ratio is so important. As a general rule of thumb, your debt-to-income should not exceed 36 percent.
•    Bad credit or no credit: You can be rest assured that every mortgage lender will closely review your credit report and score. Bad credit, which is usually defined as 620 or lower, makes it very difficult to secure a loan. The same holds true if you have no credit history, even if you are financially responsible.
•    Low appraisal: The problem with this is that you aren't in total control of the situation. This comes into play when the appraised amount is lower than the agreed upon purchase price. Fortunately, there are some solutions. Most commonly, you can attempt to negotiate a lower price with the seller. If that doesn't work, consider making a larger down payment so you don't have to borrow as much.
These are not the only reasons for a mortgage application denial, but they are among the most common. As you compare homes and inch toward a final decision, spend plenty of time making sure you can secure a mortgage. By receiving a pre-approval, you'll have a clear idea of how much you qualify to borrow.
Do you have any experience applying for a mortgage? Did you find the process simple, or did you run into trouble along the way?