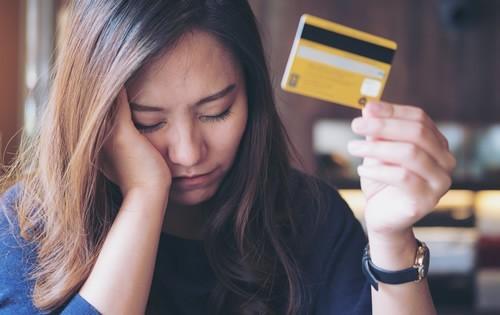 Credit cards are a type of financial product that lets you borrow money against a credit limit. You're responsible for repaying all the transactions you make, either by paying all at once or by making minimum monthly payments toward your outstanding balance. While credit cards offer several benefits, like the ability to finance large purchases or earn rewards on your transactions, they also come with a certain amount of risks that you should be aware of as you swipe and use your credit card online.
Your interest rate could go up. The interest rate on a credit card impacts how much it costs you to carry a credit card balance from month to month. Interest rates don't necessarily stay the same for the life your credit card. Most credit cards on the market have a variable interest rate which increases with an underlying interest rate, usually the prime rate. Whenever market interest rates go up, credit card interest rates will soon follow.
Your own actions can also trigger a credit card rate increase. If you fall behind on your credit card payments by 60 days or more, your credit card issuer may raise your rate to the highest penalty rate until you've made six consecutive payments on time.
The potential to go into debt. The convenience of paying off your balance over time is one of the best features of a credit card. It also makes credit cards dangerous, particularly when you don't pay off your balance in full each month. The more credit you have available to you, the greater the opportunity to get into debt. It can take several years to pay off credit card debt and cost thousands of dollars in interest costs if you're not careful. The best way to avoid card debt is to charge only what you can afford to pay off each month and then pay your credit card balance in full when the statement arrives.
The impact to your credit. Most major credit card issuers report your account activity to at least one of the three major credit bureaus - Equifax, Experian, or TransUnion. That mean how you use your credit card can help or hurt your credit score - and ultimately your ability to get approved for credit cards and loans in the future. Using your credit cards wisely and responsibly will help boost your credit score, while credit mistakes will hurt your credit and cost your credit score points.
Potential for credit card fraud. Scammers are constantly on the lookout for ways to steal credit card information to make fraudulent credit card purchases. Even when you're diligent about protecting your credit card information - checking for website security before making credit card purchases, for example - your financial information can be stolen in a data breach. It's next to impossible to completely protect yourself from credit card fraud. Checking your credit card statement often allows you to detect and report unauthorized purchases sooner.
Your credit card issuer controls the credit card terms. Your credit card issuer determines how you can use your credit card and the cost of doing so. You may be able to request certain changes to your account - like higher credit limit or a lower interest rate - but it's ultimately the credit card issuer's choice to grant your request. If you're trying to negotiate with a credit card issuer who won't budge, your only option is to accept their terms or choose a credit card that suits you better. Maintaining a good credit rating gives you the flexibility to choose credit cards with the best terms.