Important Notice:This offer may still be available, however Finance Globe is no longer maintaining information about this card. Here are some popular cards on Finance Globe:
Sorry, but this card is no longer available on Finance Globe, and information about this card may be inaccurate.
Please view similar credit cards below.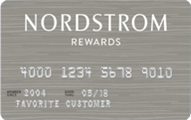 Not Active
Compare
Nordstrom Credit Card®
If approved, you can sign in to access your card online and start shopping right away.
Earn 3 points per dollar spent in stores and online at Nordstrom, Nordstrom Rack, HauteLook and Trunk Club.
Plus, get a $40 bonus Note when you make any purchase with us on your new card the day you're approved.
Enjoy the benefits of being a Nordstrom cardmember.
No annual fee and competitive APRs. See APR and fee information.
24/7 Nordstrom customer service.
| Credit Target | Type | Annual Fee | BT Intro APR | Purchase Intro APR | Regular APR | Rewards | Reviews |
| --- | --- | --- | --- | --- | --- | --- | --- |
| Good Credit, Above Average Credit, Fair Credit | Consumer | $0* | N/A | N/A | 22.90% (Variable)* | Store | 4 |