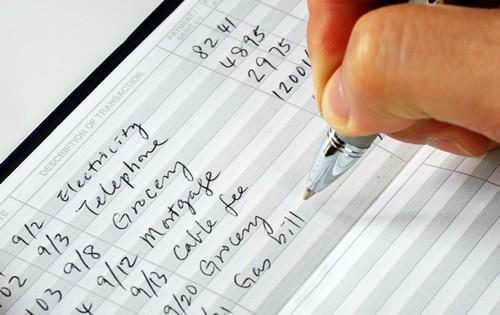 If your checking account balance frequently approaches or zips below $0, you're not managing your account well. Low checking account balances can be stressful and put you at a high risk of overdrafting. Maintaining a minimum balance in your checking account, a buffer so to speak, can benefit you in several ways.
Avoid monthly account maintenance fees. Gone are the days of free checking accounts. Many banks now charge a monthly fee on even the most basic checking account, but most will waive the monthly fee is you meet certain criteria, like maintaining an average minimum balance. Keeping a buffer in your checking account will ensure you avoid paying the fee every month.
Prevent overdraft fees. Unless you've told them not to, your bank will pay for transactions that exceed your account balance, but they'll charge a fee for the convenience. Overdraft fees often have a domino effect, with each subsequent transaction causing another overdraft fee until you bring your balance back into the positive. Maintaining a buffer in your checking account reduces the likelihood that you'll overspend your checking account and have to pay overdraft fees.
Earn interest on your checking account balance. If you're committed to keeping a balance in your checking account, consider opening a high-yield checking account. You'll be able to earn interest on the balance. Make sure you pay attention to the other account requirements. For example, you may have to make a certain number of debit card transactions to earn interest on your account.
Easier access to your emergency fund. Keeping your emergency fund in a separate account may mean you have to wait several days for the funds to transfer to your primary account. If you're disciplined enough not to use your emergency fund for splurges or everyday spending, keeping some of your emergency fund in your checking account makes it more accessible.
Easier budgeting. Often, our paydays don't line up with bill due dates or daily spending needs. This situation causes many people to live paycheck to paycheck. Keeping a buffer in your checking account eliminates the need to wait until your paycheck arrives to pay bills or buy groceries. When you always have money in your account, you can rely on your paychecks to replenish what you've already spend rather than have to wait for the paycheck so you can pay monthly expenses.
Building a Checking Account Buffer
A windfall, like a bonus or tax refund, is a good way to jumpstart the buffer in your checking account. Otherwise, you can build a buffer overtime, by making an effort to spend less of your paycheck each month. For example, if you have $4,000 deposited into your account, aim to spend only $3,500 of it. The remaining $500 adds to the buffer balance.
Your buffer should be at least the amount you need to avoid paying a monthly account maintenance fee. Building the buffer up to at least a month of living expenses can keep you from being on the brink of an overdraft and save from the stress of dealing with emergency expenses.
Once you have a buffer in your account, it's important that you not get lazy with your money management. Continue budgeting your monthly spending and avoid the temptation to overspend the extra money in your account.