Finance Globe
U.S. financial and economic topics from several finance writers.
4 minutes reading time
(798 words)
Five Fake But Believable Email Scams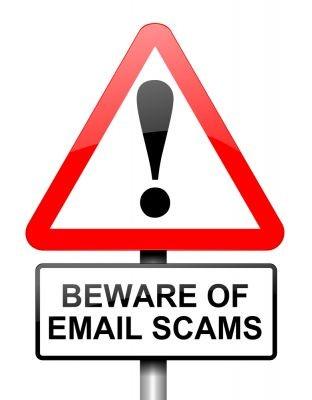 Fraudsters get better and better and making tricking people out of their money or out of information that can lead to their money. If it's your first time seeing a particular scam email, you may be fooled into clicking on a link, responding, or providing personal information. Be careful – no legitimate business solicits personal information via email. Here are some common email scams to look out for.

I'm in trouble and I need your help. The scariest thing about this particular email is that it comes from the address of someone you know in real life. They're travelling in a foreign country. They've been mugged, and need you to wire some money so they can get back home. Naturally, you'd never want to leave a loved one stranded, but this particular plea for help is more than likely a scam.

The sender's email has been hacked and someone is using their email to trick you – and probably everyone else in their address book – out of hundreds, maybe even thousands of dollars. Find a trusted method to get in touch with your relative or friend to verify the story. You'll likely found out they're safe and sound at home.

We need you to cash a check for us. Check cashing scams come in all kinds of variations. Someone has died and left money. Or they're from another country and I don't have a bank. A woman may is trying to hide money from my abusive spouse. They all try to play on your greed or sympathy.

The gist is this: you receive the check, cash it, keep part of the money yourself, and wire the rest to the scammer. However, the check probably won't clear, but you'll already have sent the money the scammer, who probably can't be located once the funds have been sent. Meanwhile, the check bounces and the bank wants YOU to replace the balance.

Don't cash a check for anyone, especially not a stranger. Worst case scenario, if you feel compelled to cash a check, wait until the funds have cleared before you do anything with the rest of the money.

Your bank account has been compromised. This type of email fools the recipient by playing on their fear of fraud – how ironic. Emails look like they've come from a legitimate business that you have an account with: your bank, eBay, Paypal, etc. They may include branding, logo, and clever wording that make you believe an account you have has really been compromised. However, the links within the email take you to a fake website (that may be set up to look like the real thing). The website may download malware onto your computer that captures your keystrokes and sends it back to the scammer. Or, the website may simply be a page to trick you into giving up your personal information.

Never enter your personal information into a link that you've clicked in an email. If you suspect your account has been compromised, go directly to the business's website by typing the URL into your web browser.

If you mistakenly enter your details into the website, immediately go to the real site and change your password. If the website allows, change your username as well for added protection.

Your credit score has been updated. People are sensitive about credit scores these days. Rightfully so, considering how important it is to have a good score. The "Your credit score/credit report" has been updated" email is another form of the "account compromise" email where the scammer wants you to click on a link in an email and give up your personal information.

If you haven't signed up for any credit monitoring service, you won't get any type of alert to changes in your credit report or credit score. And, if you do subscribe to a credit monitoring service, you should go directly to the credit monitoring service provider's website to see the updates rather than clicking on an email link.

Something's wrong with your taxes or your tax refund. The Internal Revenue Service is one of the most feared entities and scammers play on this fear. Tax email scams plague citizens all year long, but especially between January and mid-April, which is tax season. The emails have different messages, e.g. your tax refund is ready or there's an error with your tax return, but they're all scams.

Each year, the IRS informs citizens that it does not send unsolicited emails requesting personal or financial information. If you receive an email that claims to be from the IRS, do not open it. Do not click the links inside and do not open any attachments. The IRS requests that people who receive these emails forward them to [email]phishing@irs.gov[/email] to prevent others from becoming victims.
Comments
No comments made yet. Be the first to submit a comment
By accepting you will be accessing a service provided by a third-party external to https://www.financeglobe.com/