Finance Globe
U.S. financial and economic topics from several finance writers.
2 minutes reading time
(398 words)
Don't Buy a New Car Until you Answer these Financial Questions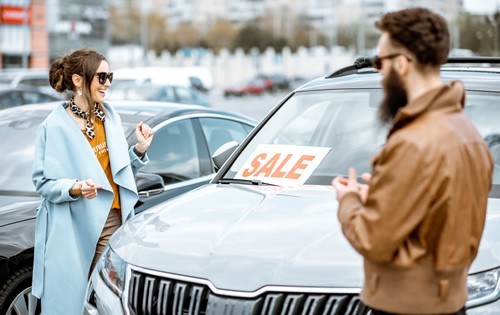 Has the thought of buying a new car overcome your mind? Are you ready to make a deal happen? While you don't want to kill your excitement, it is important to first consider what you are doing from a financial point of view.
Here are three financial questions to answer before signing on the dotted line:
1: Would you be better off purchasing a used vehicle? This is a question many people struggle to answer.
The primary benefit is the ability to save money when compared to a similarly equipped new car.
On the flipside, you are not going to be the first owner. For this reason, it can be difficult to know for sure if the vehicle is in perfect condition.
If the sales price is the only thing on your mind, buying used may be the better of the two options.
2: Have you searched around for the best financing offer? If you are purchasing a car with cash, this question never comes into play. But if you are like most others, you should spend plenty of time on this detail.
You can rely on the dealership's finance department to help you with this part of the process. This is what most people do, and for the most part it will work out just fine. However, there is something to consider: they may not point you towards the best lender if it doesn't make financial sense for them to do so.
If you truly want to secure the lowest rate from the best lender, you have to do your own shopping around.
3: Can you comfortably afford the monthly payment? Unless you can confidently answer "yes" to this question, you should reconsider your purchase. You don't want to buy a car, hoping you can afford the monthly payment, but not knowing for sure.
If there is any question about your ability to make the monthly payment in full and on time, don't move forward just yet. Instead, consider a used car or a "lower" model. This will allow you to make a purchase without the concern surrounding the monthly cost.
Are you Ready to Buy?
Once you answer the three questions above, you will feel better about where you stand financially. There is nothing better than knowing that you are making the right decision. Now, it's time to get behind the wheel and enjoy the ride!
Comments
No comments made yet. Be the first to submit a comment
By accepting you will be accessing a service provided by a third-party external to https://www.financeglobe.com/