Finance Globe
U.S. financial and economic topics from several finance writers.
4 minutes reading time
(868 words)
10 Things You Should Know About Credit Report Disputes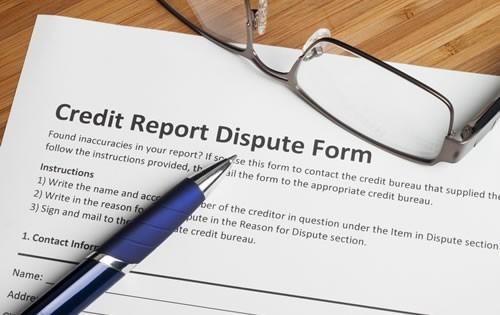 Your credit report has a major influence on your life. The information in your credit report is used for everything from your home purchase to getting a new cell phone to car insurance and even employment. A 2013, FTC report showed that one in five consumers has a credit report error. Sometimes errors are enough to hurt your credit score which leads to higher pricing and even denied applications. A credit report dispute is the best way to handle errors you find on your credit report. 
You have the right to dispute inaccurate credit report information. That means you don't have to pay a company to send dispute letters to the credit bureaus on your behalf. You can write to the credit bureaus or submit a credit report dispute online. While disputing online may be faster and more convenient, writing a letter gives you the ability to explain what you're disputing.
Be specific when you tell the credit bureau what is incorrect, so they can properly investigate your dispute. For example, if an account is reporting the wrong credit limit, make sure your dispute includes that detail. If you need to sue the credit bureau later - something you have the right to do - you need to be able to show that you gave the credit bureau enough information to properly investigate your dispute.
Credit bureaus are not obligated to remove accurate information from your credit report as long as the information is within the credit reporting time limit - even if it's negative and even if it's keeping you from building your credit. Most negative items can stay on your credit report for seven years from the date of the last delinquency. Bankruptcy can remain on your credit report for 10 years. Inquiries remain on your credit report for two years.
You can also dispute inaccurate personal information. Everything on your credit report must be accurate. That includes the personal information that appears at the beginning of your credit report. You can dispute addresses where you've never lived, inaccurate employment information, inaccurate date of birth, etc. Sometimes this is a clerical error on the part of your creditors. It can also be a sign of identity theft or account takeover. Make sure to dig into the rest of your credit report to verify that all the accounts are yours.
The credit bureau has 30 to 45 days to investigate and give you an answer in writing. You may receive results sooner than that timeframe or the credit bureau might take the full amount of time. If you send your letter via certified mail, you can track to see when the credit bureau has received your dispute so you'll know when to expect an answer.
Credit bureaus investigate with the information furnisher. Once the credit bureaus receive your dispute, they check with the business who provided the information to determine whether there's actually an error. If the dispute returns in your favor, the credit bureau will update your credit report and send you an updated copy of your credit report. The information furnisher also has the responsibility of notifying the other two credit bureaus if it finds that there's an error on your credit report.
You can dispute with your creditors, too. Sometimes there's an error on your credit report because your creditor has an error in their file. If the credit bureau's investigation doesn't remove the error from your credit report, you're allowed to dispute with the creditor, too.
You can send evidence with your submit. If you have any documentation that supports your dispute, you should send a copy of it with your dispute. Keep the original version for yourself. This helps the credit bureau with their investigation. For example, if your credit report shows a balance for a credit card that you've paid off, you can send a copy of a recent billing statement showing a zero balance to have your balance information updated on your credit report.
Too many disputes can be a bad thing. It's not a good idea to dispute everything on your credit report or to dispute items back to back. Otherwise, the credit bureaus could consider your disputes to be frivolous. In that case, they're not required to investigate your dispute or remove errors from your credit report.
You can ask for your updated credit report to be sent to anyone who's requested your credit report within the past six months. For example, if you had an application denied because of information in your credit report. You may be able to have your application reconsidered based on the updated credit report information.
You can ask for a description of the investigation process. If you're not satisfied with the result of your dispute, you have the right to ask the credit bureau to disclose how they investigated your dispute. Send your request in writing within 15 days of receiving the credit bureau's dispute results.
As you open and close accounts and new information is added to your credit report, you may find that you need to dispute a credit report error at one point or another. Knowing your rights and the correct process for disputing errors can make the dispute process go smoother.
Comments
1

Frank
on Wednesday, 26 September 2018 14:14
Great information Latoya! Have you had dispute anything on your credit report before?
Great information Latoya! Have you had dispute anything on your credit report before?
By accepting you will be accessing a service provided by a third-party external to https://www.financeglobe.com/