Total VISA® Unsecured Credit Card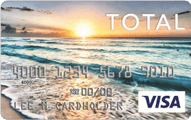 Checking account required
Fast and easy application process; response provided in seconds
A genuine VISA card accepted by merchants nationwide across the USA and online
Manageable monthly payments
If approved, simply pay a Program Fee to open your account and access your available credit
Reports monthly to all three major credit bureaus
Select your favorite card design from our gallery, for free!
| Credit Target | Type | Annual Fee | BT Intro APR | Purchase Intro APR | Regular APR | Rewards |
| --- | --- | --- | --- | --- | --- | --- |
| Fair Credit, Poor Credit | Personal | See Terms* | N/A | N/A | See Terms* | None |
Important Notice: This The Bank of Missouri credit card is no longer available, or we are no longer authorized by the bank to provide information about this card. We are displaying limited archived data. Some information may be incomplete, inaccurate or missing. We apologize for the inconvenience. Here are some of the most popular cards on Finance Globe:
Our Editor's Commentary:
The Total VISA® Unsecured Credit Card from The Bank of Missouri is designed for consumers with limited or poor credit.
Its many benefits include immediate application response, reporting to all three major credit bureaus, and the ability to use the credit card at locations throughout the United States and online.
It's fast and easy to compare card offers by the criteria you require. That way you get the best card for your needs. Find more
credit cards
.