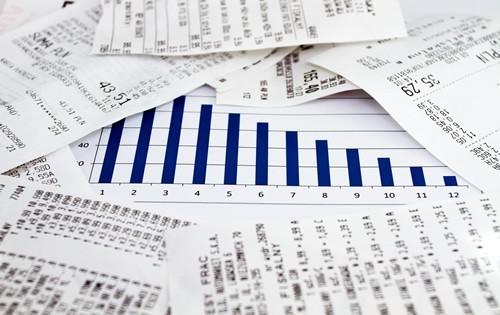 Consumer debt has been rising steadily as the economy recovered from the 2008 recession and overall consumer debt reached a record $13.5 trillion in the 4th quarter of 2018, according to the Federal Reserve Bank of New York's report on U.S. household debt and credit. Rising levels of debt may not be good for the economy and especially on consumer wallets. Here are some ways you can tell if you're adding too much debt each month.
You can't afford to pay off your full credit card balances. One of the biggest red flags of increasing debt amounts is that you can't afford to pay your entire credit card balance each month. Not only does paying your balance keep you from paying interest, it also eliminates the possibility of debt since you're starting over with a zero balance each month. To pay down your balances, stop using your credit cards so you don't create more debt. Focus on paying off your balances one at a time with large, lump sum payments.
Your debt payments are more than 36% of your income. Mortgage lenders look at your debt-to-income ratio when they're deciding to approve you for a new mortgage loan. Generally, if your monthly debt payments are more than 36% of your income, you're considered to have too much debt. This is a good rule of thumb to use for yourself too. A person with a monthly income of $5,000, for example, shouldn't spend more than $1,800 on debt each month. Anything above that amount is risky.
You have more debt than savings. Another sign that you have too much debt that your savings account doesn't match your debt. Some people have to dip into their savings each month to make ends meet. Others simply can't afford to save money at all because their monthly payments are too high. If your credit card balances are higher than your savings account balance, it's a sign that it's time to scale back on your purchases and start savings more money.
You've had an application denied because of your debt. Even with a good credit score, you can be denied for credit cards and loans because of the amount you're carrying. Creditors and lenders are hesitant to give you additional credit if you're already over extended. When you have an application denied, businesses are required to send a written letter telling you the reason why. And, if it's credit-related, the business must tell you how you can access a free copy of the credit report that was used in the decision. They're also required to give you a notice if you're charged a higher interest rate because of the amount of debt you're carrying.
Keeping an eye on your debt levels is a must for your financial stability. If you notice your balances getting higher, pull back on your new purchases until you've paid off your existing debts.